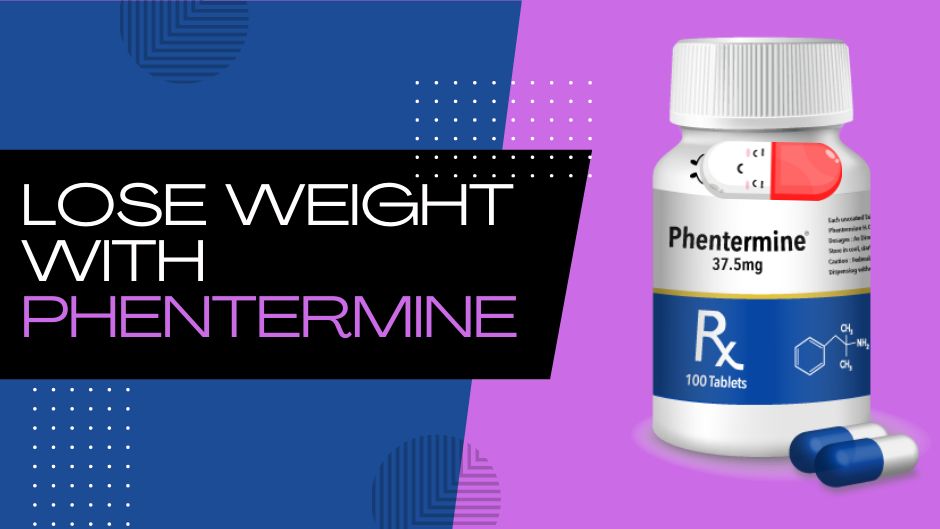 Eating a healthy and well-balanced diet, and regular physical activity is the core of healthy weight loss,
However certain medicines can provide robust and essential support.
One such drug is phentermine for weight loss. It is one of the most potent and recommended drugs for people suffering from obesity across the world. You can lose weight with Phentermine.
It has been proven as the most effective treatment for short-term weight loss.
They used exercise and a reduced-calorie diet.
However, using phentermine diet pills is not without risks and side effects.
In this blog, you will get to know everything about phentermine, such as its dosage, benefits, and possible side effects.
Overview of Phentermine
Phentermine is a potent prescription drug used in a weight-loss treatment plan.
This drug was approved by the FDA in 1959 for a short period of about 12 weeks for an individual above 16 years.
In the 1990s, the manufacturer of this medicine combined phentermine with other weight loss medicines, & this combination is referred to as fen-phen.
After taking phentermine diet pills, people reported problems in the heart, and the FDA removed two medicines used in the treatment.
Two medicines that were removed were dexfenfluramine and fenfluramine.
Nowadays, people generally use phentermine as an over-the-counter medicine on their own, which is also available as a brand drug Suprenza, Lomaira, and Adipex-P.
This medicine is also known as the combination medicine Qsymia, which is the combination of phentermine and another medicine, topiramate.
Phentermine medicine is a potent stimulant that is also available as a prescription medicine. This medicine also comes with the risk of addiction.
It is considered a controlled substance. It is chemically the same as amphetamine, which is a controlled substance.
A medical professional may also recommend it if you are overweight with a BMI more than or equal to 27 or have at least one weight-related health problem, such as high cholesterol, high blood pressure, and type 2 diabetes.
They will likely recommend other weight loss methods, such as a low-calorie diet and weight loss.
How does Phentermine work?
Phentermine diet pills belong to the family of anorectics medicines, also known as appetite suppressants. Consuming this medicine helps suppress your appetite, thereby limiting the calories you eat. During this period, it can result in weight loss.
While the exact working mechanism of phentermine diet pills is unknown, this medicine is considered to act by increasing the levels of neurotransmitters in the brain.
Neurotransmitters are the natural chemicals in the brain, such as dopamine, serotonin, and norepinephrine
They are considered chemical messengers of your body.
However, you develop a tolerance to the appetite-suppressing effects of this medicine within a few weeks. If this happens, immediately consult a medical professional who prescribed you this drug.
It is seen that this medicine decreases your appetite by increasing the level of neurotransmitters in the brain.
 What are the primary uses of Phentermine?
It is the most commonly used medicine for weight loss. Still, it may also be used in combination with the drug topiramate to help with certain eating disorders, including binge eating disorders.
Weight loss treatment
Research has shown that phentermine can support healthy weight loss.
Though FDA-approved phentermine diet pills are for short-term use of fewer than 12 weeks, medical professionals often recommend this medicine for some off-label purpose for extended use.
A medical professional may recommend it intermittently, which means you can take a break from the drug for a set period before resuming it.
The average weight loss while taking this medicine is 3% of your initial weight after three to four months and approximately 5 to 7 percent after six months. Many people also report more weight loss than this.
This means a 5 to 7 percent weight loss is about 10 to 14 pounds (4.5 to 6.4 kg) for an individual who weighs about 200 pounds which is 90 kg. However, not everyone responds the same to this drug.
If you have not lost much weight after three to four months of consuming it, your medical professional may discontinue this drug.
Eating disorder treatment
The combination of topiramate and phentermine helps reduce eating disorders in individuals with bulimia and BED.
Binge eating disorder or BED is characterized by eating foods in heavy amounts, often quickly.
It is associated with the feeling of losing control during the binge and a sense of shame afterward.
On the other hand, bulimia nervosa at the same time involves the same eating behavior as with BED. Still, it also requires behavior an individual use to compensate for the effects of binge eating, including self-induced vomiting.
Forms and dosage of phentermine
The phentermine dosage depends upon the concentration and forms of the medicine.
Phentermine
Before 2016, the only available doses of this medicine were 15 mg, 30 mg, and 37.5 mg. However, since it has become the most recommended drug for weight loss by medical professionals, FDA approved an 8 mg formulation in 2016, which means it can be consumed up to three times per day and at least 30 minutes before a meal.
If you are recommended a higher dose, you can take it once a day, preferably in the morning before breakfast or one to two hours after breakfast. To avoid insomnia symptoms, you should avoid taking the last dose too late in the day.
Topiramate and Phentermine
The combination of topiramate and phentermine is sold under the brand name Qsymia.
This drug is available in four doses, with 37.5 mg to 15 mg of phentermine and about 23 mg to 92 mg of topiramate.
They are offered in an extended capsule, preferably in the morning.
Conclusion
Phentermine diet pills are a prescription drug used as an appetite suppressant and weight loss for short-term use.
The combination of topiramate and phentermine appears to be more effective than phentermine alone, this is approved for long-term usage.
It helps reduce binge eating disorders in people suffering from this condition.
Also, consult a medical professional before starting to take this medicine if you are consuming MAO inhibitors.
While this medicine is a helpful tool for weight loss,
It is not recommended as a first-line therapy. Instead, it is best to first maintain a healthy lifestyle, and healthy eating habits, and make changes for long-term success.